How Do I Manage My Clan?
Recruit­ing mem­bers, invit­ing mem­bers, kick­ing out the trouble­makers and giv­ing your clan a funny des­cription... all of this comes un­der the head­ing of clan man­age­ment.
Clan Man­agement is acc­essed through your
Pro­file
un­der the
Clans
tab.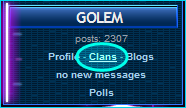 Find your summ­ary pan­el at the top left of the Llama­LAN web­site.
Click the

Clans

link.
The first sec­tion on the Clans tab is a list of all clans to which you be­long. If you are a clan leader, you can begin manag­ing your clan from here.

To begin manag­ing your clan, click its name - e.g. Frag Test Dummies.
Details Tab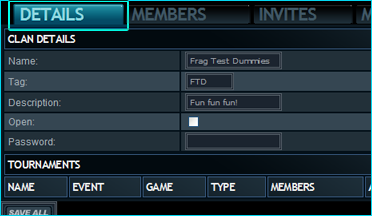 Here you view and edit the main info about your clan - name, tag, descrip­tion and priv­acy op­tions. To up­date:
Adjust the details as des­cribed.
Save the changes with the

Save All

but­ton.
Members Tab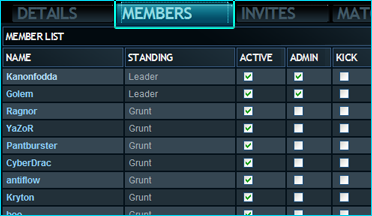 Here's all your clan­mates! There are three check­boxes for each allow­ing you to indi­cate if they're ac­tive, if they can also man­age the clan or if you want to kick the player. To make any changes:
Mark your play­ers as approp­riate to suit your clan's needs.
Save the changes with the

Save All

but­ton. At the point of saving, play­ers marked 'Kick' will be boot­ed from the clan.
Invites Tab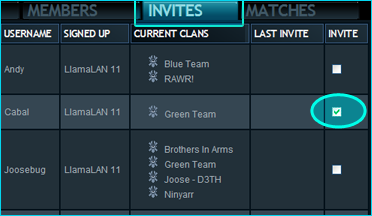 Is your clan lack­ing in mem­bers? Any­one who has ear­marked them­selves as a
merc­enary
app­ears in this list - a list of pot­ential new rec­ruits for you. As well as who's up for grabs, you can also see the other clans they're cur­rently work­ing for. When send­ing in­vites, you can add a mess­age and when you want the in­vite to ex­pire. To in­vite a merc­enary:
Check the box in the

Invite

col­umn.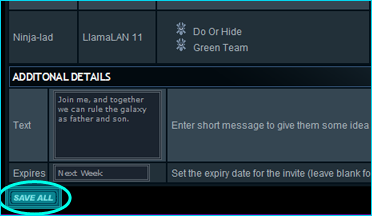 Add a mes­sage in the

Text

field.
Enter a date of ex­piry in the

Expires

field. You can also use strings like 'to­morrow' and 'next week'.
Send the invit­ation(s) with the

Save All

button.
Note - Clans shar­ing play­ers can­not play in the same tourn­ament.
Matches Tab
The use of the
Matches
tab is detailed in the tutorial
'How do I enter scores for matches?'
I hope that answers your questions on managing your clan - although if you came here looking for help keeping your clanmates under control... you're on your own there.

There is a forum especially for clan leaders looking for members - open the
forums
and find the
Recruiting
board!