How do I Join a Clan?
You're at a LAN. You want in on this clan tournament action. But you're a perfect soldier, not someone who wants the hassle of actually running a clan. Then read on, for here is where you learn how to join an already existing clan!
Access to clan related activity is through your
Pro­file
un­der the
Clans
tab.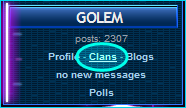 Find your summ­ary pan­el at the top left of the Llama­LAN web­site.
Click the

Clans

link.
The
Clans
page is split into three sections. The second section,
Request To Join a Clan
, is where you want to look.
The list of clans in LlamaLAN are in the dropdown list labelled

Clan

. Select the one you want to join.
Underneath is the field labelled

Password

. If the clan is private, it requires a password to gain membership. Enter the password given you by the clan's leader here. If it is incorrect or missing, you'll be told as such when you try submitting. If the clan is open, no password is required.
And that is that, my friends. Of course, you may not have a particular clan in mind. Want to be on hand to make up the number elsewhere, if needed? The other option is to go mercenary.
Learn how to designate yourself a mercenary!